How to register for the NASC ePortal
This page allows you to set up your subscription account for the NASC ePortal with a login email and password.
To register, you will need to have a 16-digit NASC ePortal serial number, which are allocated at the time of purchase.
If you have purchased the TG20:13 eGuide, you can register for a period of free access with your TG20:13 serial number - see below for details.
If you are a new customer, find out how to purchase an NASC ePortal TG20:21 subscription here.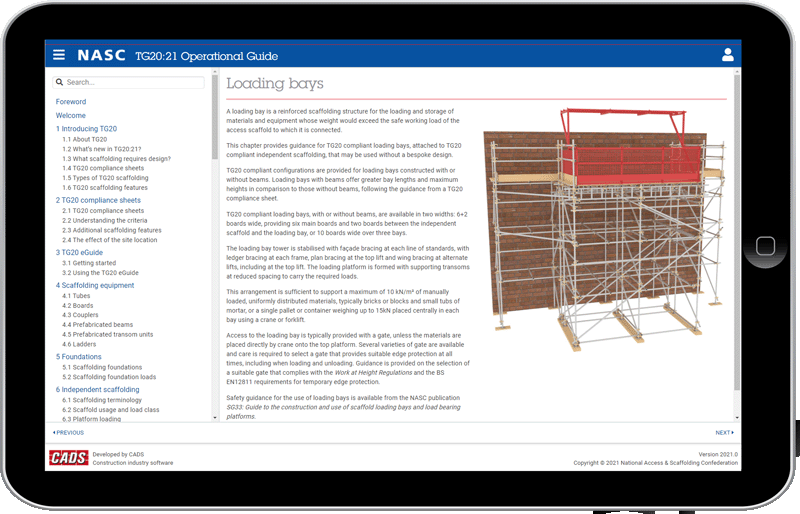 Free subscription offer
Current users of the TG20:13 eGuide can try out the NASC ePortal free of charge for three months from the launch date.
Those that purchased the software since 2019 will have up to 15 months free, depending on the date of the original purchase.
Activating your free subscription
If you have an existing 16-digit TG20:13 serial number, you can use it to Register for your free subscription period.
To do this, follow the steps to enter your TG20:13 serial number, the email address you wish to use to register your subscription account and your preferred password.
You can find your serial number by pressing the button on the Home screen of the TG20:13 eGuide.
Need help?
Try reading the answers to these frequently asked questions, which could get you up and running quickly.
If these answers didn't solve your problem, please contact the CADS technical support team, who will be happy to help.
CADS are providers of software and services for the construction industry, who have partnered with the NASC to develop the NASC ePortal and TG20:21.
The support desk is open between 09:30 - 17:00, Monday to Friday.
+44 (0)1202 603733
If you have a query about purchasing or renewing a subscription, please contact the NASC for help.